"Ray-ny" Night for Davey!
The week started badly, driving to work on Monday, the gears went on my van, called the AA out and luckily it was the connecting cable to the gear box, so £150 and it was fixed.
Managed to get all my work down by Friday Afternoon so I could fish in the evening. 
High water was 5am saturday morning so after a lot of thought I'd decided on 2 venues, the first I would fish the last of the ebb over low then the first of the flood then move to the 2nd 3 hours before high, well that was the plan.

The forecast was awful, strong winds and heavy rain, but being bloody minded I was going regardless!
Arrived at my first venue, ever the optimist one rod I had a clip down rig with 4/0 and sandeel the other a 2 hook scratching rig.
Baits were out by 8.06pm, I rolled myself a cigarette, poured a coffee and texted the wife that I'd arrived safely.
Didn't have to wait long for the first bite, 14 minutes in fact, 2 slow but strong tugs on the sandeel on the 3rd the rod kept going I struck and felt a good weight,looked and felt like a Ray, but this was still February but out of the darkness 2 beady eyes shone back at me wings flapping, and 1st target was in a nice sized small eyed Ray (painted) weighed it went 8lb 1oz
I Waded out and slipped it back and it disappeared into the darkness.
After that I had a few rattles on the worm rod which came to nothing apart from a small pot, then the rain started but I didn't care I was happy.
Low water arrived and the weed came too, stuck it out till 11pm but it was too much, so time to move.
Arrived at my 2nd venue, still early and the tide was a long way out but thought I'd give it a go.
Same baits and tactics, within 5 minutes of casting out I had a good tug then slack line, and my 2nd target was in a nice Bass of 1lb 6oz.

Half hour and I landed another of similar size. Around 1am with the rain pouring down and the wind gusting stongly I get a better bite and I land my 3rd Bass this one going 3lb exactly.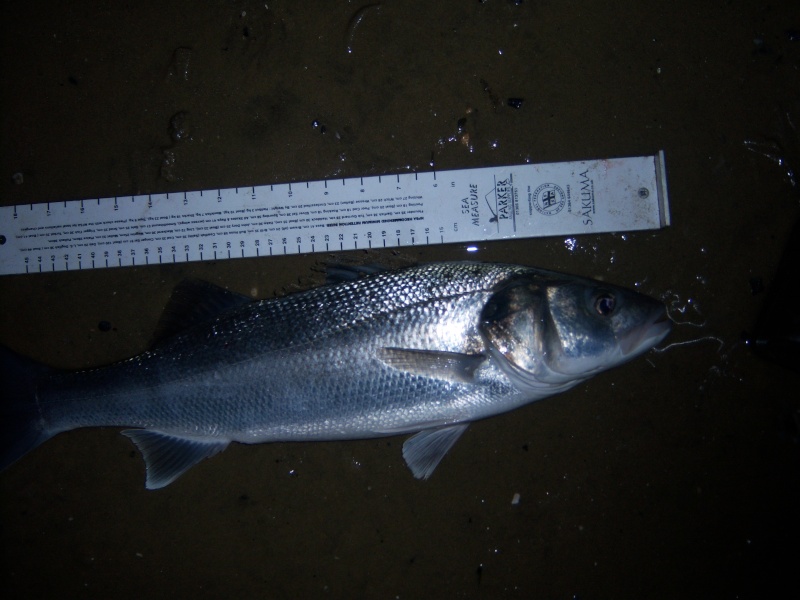 I managed another Bass a while later around the 2lb mark by 5am I'd had enough.
A very wet but happy angler went home to bed.
All fish were returned alive.